Visit the Talking Book Library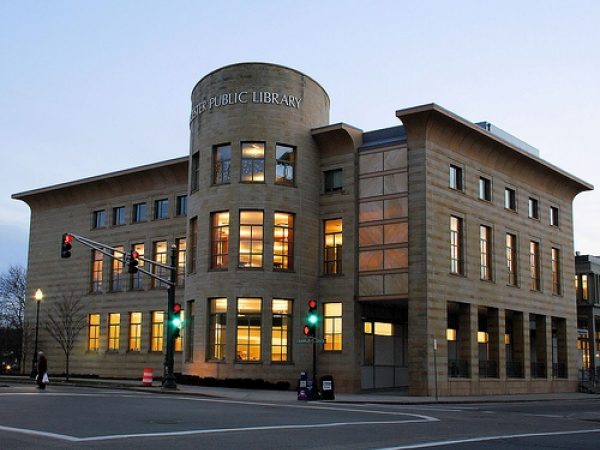 Worcester Public Library
3 Salem Square
Worcester, MA 01608 
Tel: 508-799-1655
Hours 
Sunday: 1:30 pm - 5:30 pm October through April
Monday: 9 am - 5:30 pm
Tuesday: 9 am - 5:30 pm 
Wednesday: 9 am - 5:30 pm
Thursday: 9 am - 5:30 pm 
Friday: 9 am - 5:30 pm 
Saturday: 9 am - 5:30 pm
Map & Directions
Parking at the Worcester Public Library
McGrath Lot (Library)
40 Salem Street
Pay Station Hourly Rate: $1.00
Time limit: 3 Hours
Hours of Operation
Monday - Saturday 5:00 am – 3:00 am
Parking Meters Fees in effect
8:00 am – 8:00 pm
Payment Options
Cash/Coin, American Express, Discover, MasterCard and Visa.
Monthly passes may be available on a first-come, first-served basis. For information and availability, contact Customer Service at (508) 929-1300.
Pay Stations
The City of Worcester has implemented central pay stations at the McGrath municipal parking lots. Simply enter the parking space number, select the desired amount of time and pay the amount indicated. It is not necessary to place your receipt on the dashboard of your vehicle.
For General Parking questions
call Michael Brennan
508 929-1300 ext. 416
For Paystations issues, call Joe Magierowski 508 929-1300 ext. 4182