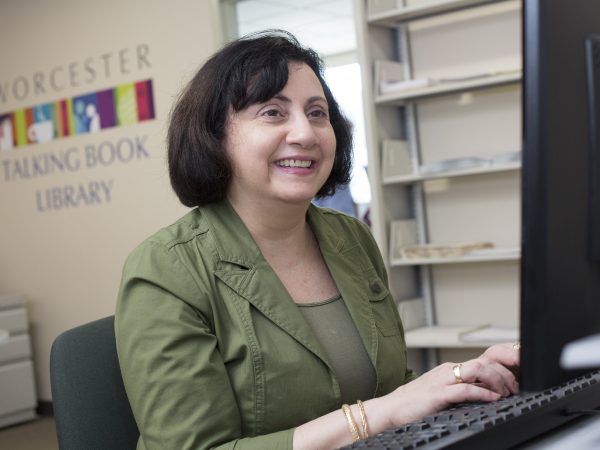 Adaptive Technologies for Public Use
Listed below is a list of different adaptive technologies for public use on computers located in the Talking Book Library Service area located at the Main Library of the Worcester Public Library.
Duxbury Braille Translator (DBT)
The Duxbury Braille Translator (DBT) provides translation and formatting facilities to automate the process of converting text from regular print to Braille (and vice versa). The application also provices word-processing facilities for working directly in Braille as well as in print. DBT creates highly accurate un-contracted Braille (Grade 1) or contracted Braille (Grade 2) for personal letters, office memos, teaching materials, bus schedules, signs compliant with the Americans with Disabilities Act (ADA and more.
Duxbury Braille translation software allows anyone who may or may not be Braille literate to translate text to Braille. The program displays the Braille translation for review and allows the user to select a line of Braille and see the text. Afte review, the Braille file can be saved, printed on a normal page printer and/or embossed on a Braille printer. Output on a normal page printer does not result in raised dots, but does produce raised dot-like images, which are useful for sighted individuals to preview Braille output.
---
Kurzweil 1000
Kurzweil 1000 is reading software that makes printed or electronic text accessible to people who are blind or have limited vision. It combines accessibility, communication and productivity tools to ease and enhance a reading, writing and learning experience. Using Optical Character Recognition and Text to Speech technology combined with a unique audible user interface, Kurzweil 1000 converts the printed word into speech. The software speaks text aloud in a variety of natural-sounding voices that can be modified to suit individual preferences.
Users can scan in books, articles, printed letters, bills and advertisements, almost anything that fits on a scanner, so the information can be quickly read aloud. The text can be saved for future reference and modification. Kurzweil 1000 is easy to use for beginners, yet powerful and flexible for advanced users.
---
Kurzweil 3000
Kurzweil 3000 is reading, writing, and learning software for students. The software uses a multi-sensory approach, presenting printed or electronic text on the computer screen with added visual and audible accessibility. Kurzweil 3000 incorporates features such as decoding, study skills, writing and test taking tools designed to adapt to each individual's learning style.
Kurzweil 3000 provides students the tools they need to improve their reading speed and comprehension, plus a suite of features that make it possible for them to learn and study independently. It has helped improve their academic experience, their ability to function effectively in the workplace, as well as the quality of their daily lives. For students who have difficulty physically accessing curriculum materials, Kurzweil 3000 provides a digital means of engaging with text and can support students who use alternative methods for accessing the computer.
---
Braille Embossers
A Braille embosser produces a text document in Grade 1 or Grade 2 Braille. Specialized software (e.g. Duxbury Braille Translator) is needed to translate text from a computer into Braille. Two computers in the Talking Book Library are equipped to print to a VersaPoint embosser or to a Juliet Pro embosser.
The VersaPoint produces Braille on single sheets of 8 1/2" x 11" special-weight computer Braille paper, while the Juliet Pro produces inter-point Braille on both sides at once of an 8 1/2" x 11" sheet of computer Braille paper. It has a speed of 55 characters per second, two-sided 56-character lines, graphics capabilites and can use standard and variable paper sizes and weights. Juliet Pro also has single sheet tractors and ET Speaks, an innovative speech system wihich speaks various embosser settings and commands.
---
Jaws
JAWS for Windows, a popular screen reader, works with a PC to provide access to software applications and the Internet. With its internal software speech synthesizer and the computer's sound card, information from the screen is read aloud, providing access to a wide variety of information, education and job related applications. JAWS can also send data to refreshable Braille displays.
---

ZoomText
ZoomText Magnifier/Reader is a fully integrated magnification and reading program tailored for low-vision users. Magnifier/Reader enlarges and enhances everything on your computer screen, echoes your typing and essential program activity, and automatically reads documents, web pages, email..